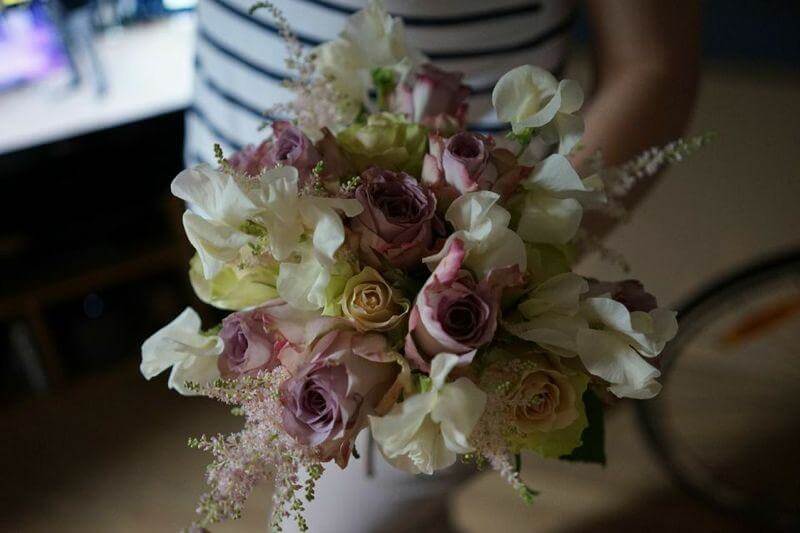 You will need: A length of twine or raffia, flowers and foliage, paper or ribbon (if gift wrapping).
Step 1
After selecting a range of flowers and foliage's of different sizes, textures and shapes, lay them out on the table in front of you in groups. This will help you to balance your bouquet as you begin to spiral the stems.
Step 2
If you are right handed hold your focal flower (from your main blooms) in your left hand (vice versa if left handed). Bend your arm slightly so your hand is in front of you. With your second flower (a smaller filler flower or piece of foliage) place it across the focal flower so it is at a diagonal.
Step 3
Now start adding other blooms and foliage a few at a time in the same direction and on the diagonal. Turn the bouquet in your hand support hand, using your other hand. This will start the spiralling effect you need.
Try to keep your hand relaxed without allowing the flowers to drop too much.
Keep adding as above until you have added all blooms. Pop a few pieces of foliage around the outside to create a secure collar and keep any soft flowers nice and safe in the inside of the bouquet.
Step 4
Secure the stems at the point at which you were holding, the binding point, with your raffia or twine. To do this hold firmly with your supporting hand and tie with the other. Cut stems a little directly across. You can always cut shorter later if needed.
Step 5
If you would like to wrap as a lovely gift, then fold two pieces of paper to create two points. Lay the bouquet down and wrap the paper around. Secure with a small piece of tape. Add a piece of ribbon to bring the paper together at the binding point.
Step 6
Share your bouquet with someone and see just how happy it makes them!
Looking after your bouquet
Ask them to re-cut the stems every few days (just a little) and place in clean water as soon as possible.