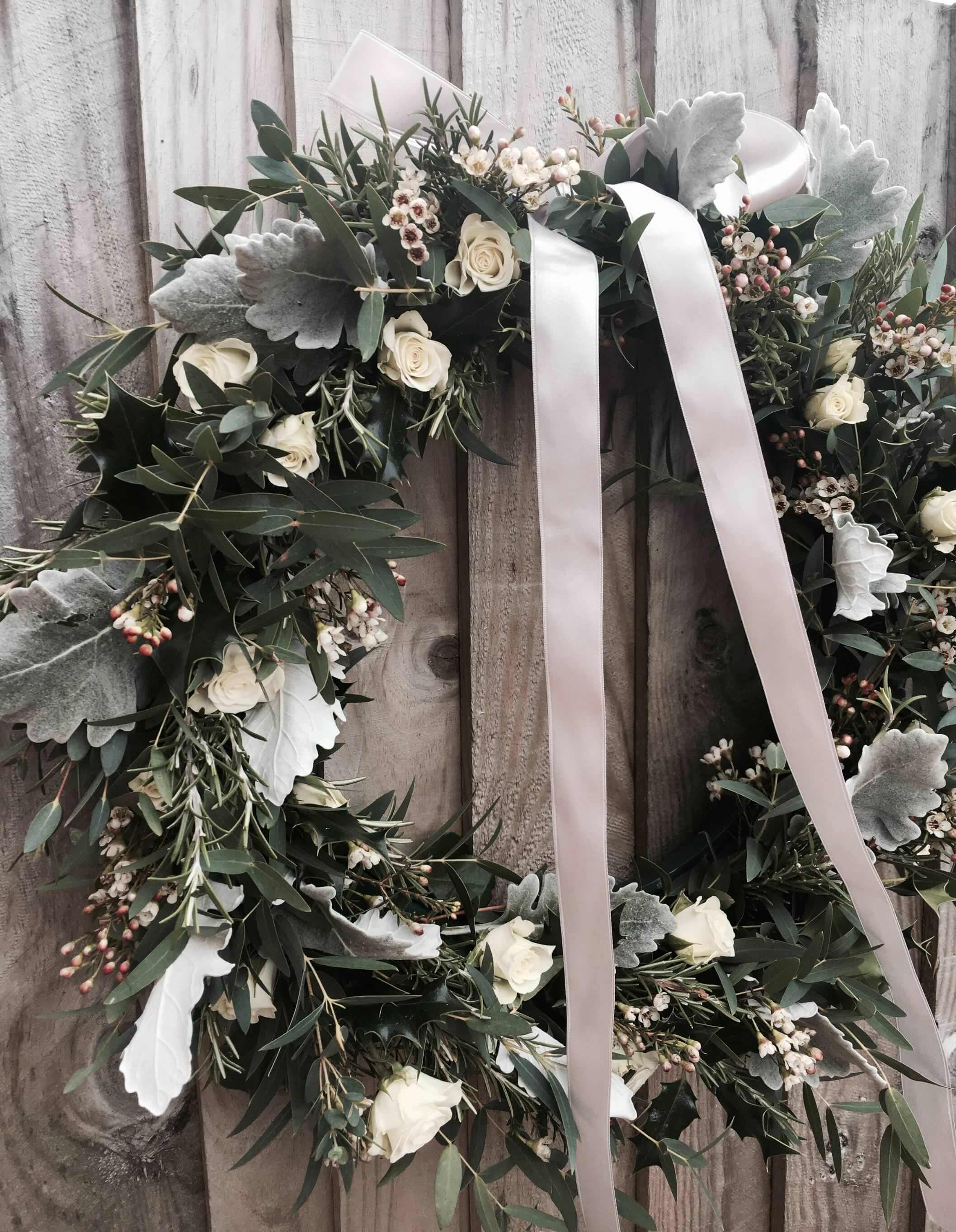 How to make a Christmas Wreath
Step 1. Soaking the Oasis
To speed things up we've already soaked your Oasis ring, but if doing it at home simply soak in water for around 10 minutes (making sure not to press down) until you don't see any bubbles.
Step 2. Chamfer the edges and add a ribbon
With the wreath ring in front of you carefully chamfer (cut at an angle) the edges of the Oasis with a knife. Unless you're using the wreath as a table centre now is also the best time to pick some ribbon and add a bow.
Step 3. Green up
Select two or three types of foliage and "green up" the ring by adding it around the edges, either with a spiralled or zig-zag approach which ensures you're placing the stems evenly throughout and the ring gets completely covered. As you go make sure you cut the stems at an angle (to help them absorb water) to about 4cm, letting the natural line of the stems guide you as to where they're placed. Doing so should give you a consistent and balanced covering.
Step 4. Add interest
Now start to add "interest" to your wreath with other flowers and stems - typically filler type flowers, small and interesting. Complement these with any large focal flowers (e.g. roses) or wired items that you wish to add.
Step 5. Stand back and admire your creation
When you've finished your design make sure to take a step back and look for any gaps and fill them in where necessary. Once you're completely happy hang it on your door with ribbon or a hook.
Looking after your wreath
If you're hanging the wreath outside it should last around three weeks, although you might want to top up the ring with water every three to four days to keep it moist. Top tip: always check the water is not dripping before you hang it up, and place it on top of a cloth or similar if you're using it as a table centrepiece.