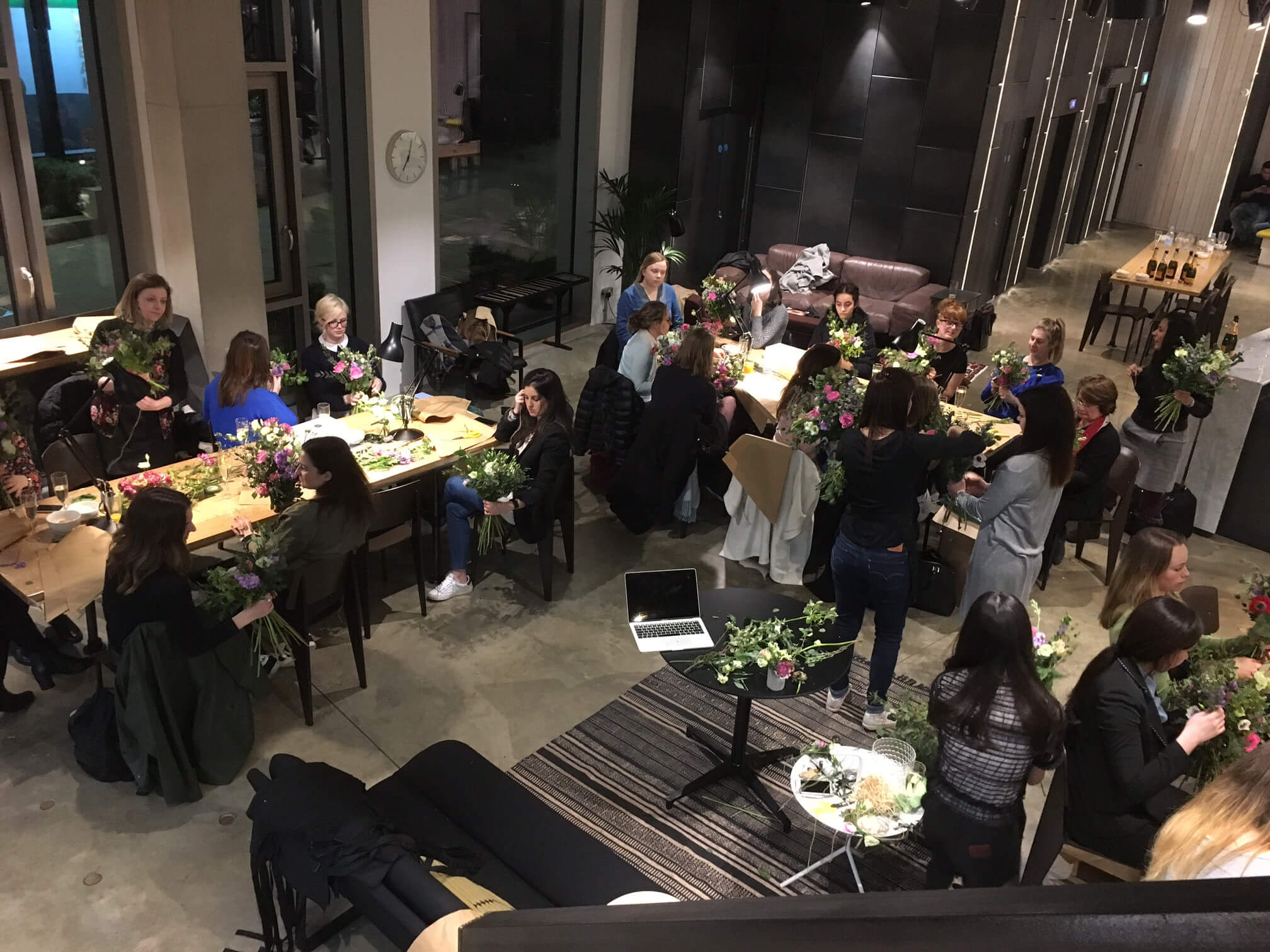 Moving from Team to Teamwork
Collaboration is stated as the top challenge managers cite in making sure an activity or project is delivered successfully.
If a team is not collaborating they are not communicating well, there will be negative conflict and ultimately projects become delayed or are not delivered to the quality that the individuals in the team are capable of.
When an individual takes up a team role they are still driven by their own goals rather than that of the team. Unless... true collaboration is worked toward. The starting point is to make a conscious — and collective — decision to go beyond.
Grow a better team
Floristry and flowers are a wonderfully distracting and mindful method in which to build collaboration among the team.
With increasingly diverse, remote, high turnover or short term teams emerging in the work place it is easy to understand why true collaboration can be challenging. The Olive + Blossom team building floristry experience supports a team to tackle the problem head on.
Over a full day, or longer, we work with your team to target bespoke learning objectives, all set in the context of starting and running a floristry event or business. After a pre-discussion regarding a team's key objectives, challenges and of course sharing your earliest flower memories! we will be off to a great start in supporting collaboration in an environment where people can play, be creative and importantly build together.
(Note, Rachael is qualified to offer team role feed back and the tool your team currently uses to understand team dynamics can be discussed in the session - if appropriate and agreed to do so).
Example session
The Day: Your team will be asked to arrive with an open mind and a willingness to learn.
In groups of 2/ 4 we will design a floral display piece.
The tools and flowers required will be in front of the groups, and some missing held with the facilitator. The instructions will be missing but the end goal explained. Your group will need to work together to create a design based on what they can see and ask for. They will need to negotiate with other groups for flowers (and potentially instructions). The team will have a set amount of time with which to complete their design. They will be asked at the end to spend time thinking about what went well, not so well and share with the group i.e, what from a collaboration point of view have they learned about their partner, the team and will take away?
Beyond the classroom
Individuals will feel a sense of 'investment' in them. This is important for retention purposes and indeed for the overall wellness of the person and ultimately team.
The team will have shared an experience. In shared experience, they have created a history, a story with which to share and reflect on. A bond that only they now share.
Collectively they will have agreed a way of how they will communicate better going forward and indeed agree that better communication is the way forward to overcome challenges in the future.
Team roles will be more apparent and discussed. A platform on which to support the team grow and place activities in the hands of the best person for the job.
Barriers will have been broken down, a new skill will have been learnt and a new way of working agreed on.
Say hello@oliveandblossom.com to see how we can support your team.
Quick overview
We will:
Catch up and consult in advance to design/ outline learning and team day objectives.
Agree on and organise (where needed) an appropriate venue.
Bring all the tools and flowers you need plus instructions available on your phone/tablet.
Deliver a fantastic floral team session, with your objectives as the key starting point.
Facilitate learning, conversation and confidence building.
Facilitate further 'team role' psychometric understanding where requested.
Summarise and follow up further to the session where agreed upon.
Consult further on team roles and development where requested.